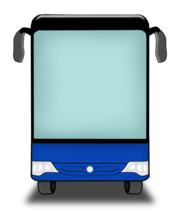 A shuttle bus will be available during the period of Model-IT each day. The shuttle is provided in order to make commuting between the hotels (situated near Luisenplatz) and ATB easier and is an option for anyone who does not want to use public transport.
Please note that there will only be one active bus with a maximum capacity of 50 passengers for each tour.
In the event that you happen to miss the shuttle, there is an alternative option of public transport available as well. You can take the bus 692 in the direction of Potsdam "Institut für Agrartechnik". The bus may also be labeled with "Campus Jungfernsee via Institut für Agrartechnik" depending on the time.
The schedule for the shuttle bus is as follows:
June 12, 2023 - Potsdam
First shuttle (Luisenplatz > ATB)
Departure time: 8:00 A. M
From: Allee nach Sanssouci 1, right next to Luisenplatz
Second shuttle (ATB > Luisenplatz)
Departure time: 9:00 P. M
From: ATB (bus stop)
June 13, 2023 - Potsdam
First shuttle (Luisenplatz > ATB)
Departure time: 8:00 A. M
From: Allee nach Sanssouci 1, right next to Luisenplatz
Second shuttle (ATB > Schifffahrt in Potsdam)
Departure time: 6:30 P. M
From: ATB (bus stop)
Final stop: Lange Brücke 6, 14467 Potsdam
June 14, 2023 - Berlin
Shuttle (Luisenplatz > Reichstag, Berlin)
Departure time: 12:30 P. M
From: Allee nach Sanssouci 1, right next to Luisenplatz
Final stop: Platz der Republik 1, 11011 Berlin
Pick up location at Luisenplatz: